Bike & Py trips and training courses are a finished product provided by a local team of bike enthusiasts. Possessing a solid know-how in event management (French National Cup, UCI Mountain Bike World Cup, Pyr'Epic All Mountain Race), some of the team already have several years of competition experience under their belts.
We proudly provide a custom service including all necessary logistics required to have a worry-free experience, allowing you to make the most of your ride while taking in the beautiful scenery.
Why the Pyrenees? 
Simply because we live in the heart of the Pyrenees and would like to share this exceptional riding terrain the best way possible.
A truly spectacular landscape composed of stunning and untouched nature as the backdrop, biking in the Pyrenees can prove to be an unparalleled riding experience. What's more, while riding in the Pyrenees you will discover the essence of mountain life, traverse local villages with remarkable charm, and taste authentic southwestern French cuisine.
Cycling Trip – Pyrenean Mythic Cols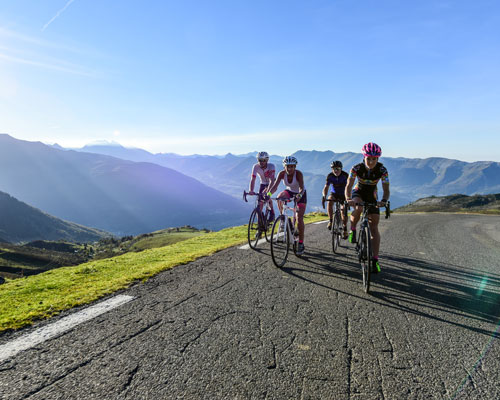 6 riding days
7 nights
Discovering the Pyrenees with Electric Bike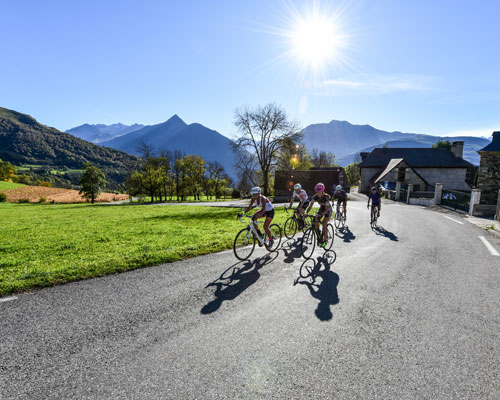 3 days riding
3 nights

Electric bike and Walking Trip – Discovering the Pyrenees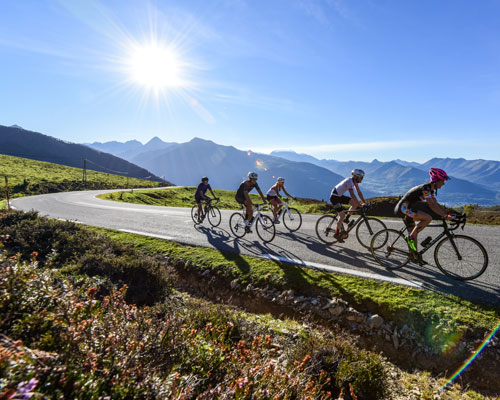 2 days riding
1 day walking, 4 nights

Electric bike Trip – Discovering the Pyrenees with Electric Bike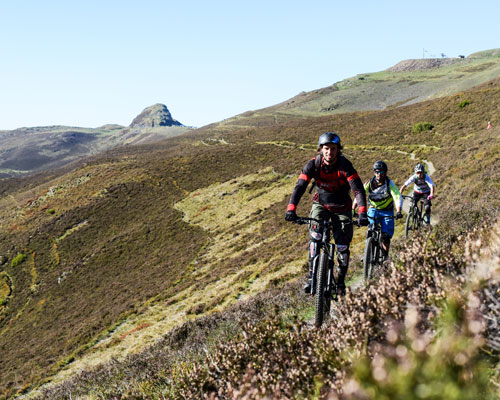 3 days riding, 3 nights
Enduro MTB Trip – Pyrenean Enduro MTB trip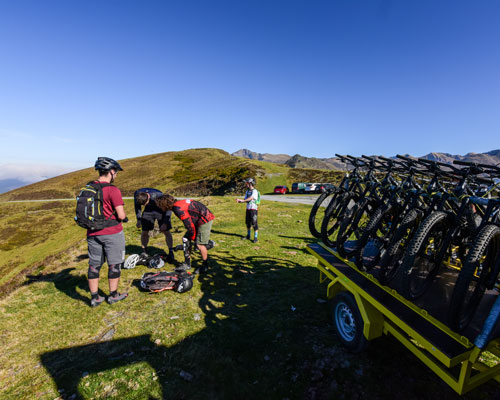 3 riding days, 3 nights

Why Bike & Py?
Guaranteed departure: All our holidays are guaranteed from a minimum of 4 people.
Customization: We offer some supplements, but it is possible to include other services (access thermoludic center, tasting of local products, park access animal park of the Pyrenees, …), do not hesitate to contact us.
Customizable date or privatization of the trip: For groups of 4 people minimum (clubs, works councils, …), we can propose a trip "à la carte", on another date or even a privatization of the trip, contact us for more information.
Low cost flight: Lourdes is fortunate to be near airports served by regular low cost airlines. We do not make flight reservations, but we can inform you about the companies to contact and flight schedules.
Bicycles: We attach great importance to the quality of our rental services, that's why the bikes we offer for rent are bikes of the year, well-known brands, carefully maintained and prepared for each trip so that you to make the most of your stay without worrying about the equipment.
Independant trip: You just want to discover the Pyrenees by yourself and benefit from an infrastructure adapted to your stay and some advice, do not hesitate to contact us, we can make you benefit from good plans and preferential rates.
Established company: Bike & Py is registered under Atout France as a travel and holiday agency, Bike & Py is also a member of the APST (Professional Association of Tourism Solidarity) and as well as part of the Altamonta network, a professional and tourism network at the service of cyclists and mountain bike riders in the Pyrenees.