Discover one of the most beautiful cycling destinations in the world and traverse a handful of the Pyrenees' legendary cols which characterized the Tour de France (Tourmalet, Aubisque, Aspin, etc.). Among the cols that will be climbed during this trip, some are part of the 2023 Tour de France.
Be taken away by the charm of the Grands Site de Midi Pyrenees, climbing the Col des Tentes at the doorstep of the Cirque de Gavarnie registered at the UNESCO World Heritage Sites.
We will assist you on our selection of the most beautiful roads in the Pyrenees and will make you discover everything that makes the charm of our beautiful mountains, and you can even taste the local flavors by visiting a sheepfold (cheese tasting).
Would you like to add a day to visit a vineyard to your stay? We can offer you a visit to a chateau and its winemaking facility, followed by a wine tasting.
In our opinion, this trip is the best way to discover the Pyrenees on road bike and guarantees an unforgettable experience filled with adventure!
Our goal is to provide you the best adapted service and all the logistics so that you can take a maximum of pleasure while thinking about nothing, except to ride your bike and enjoy the majestic landscapes!
Avergage positive climb m/day
From June to October
Guaranteed departure:
28th May 2023 => 1st June 2023
17th September 2023 => 21th September 2023
 Other dates: 
From 4 people, contact us for price.
Less than 4 people, contact us, we will try to find a solution for you.
Independant trip: You just want to discover the Pyrenees by yourself and benefit from an infrastructure adapted to your stay and some advice, do not hesitate to contact us, we can make you benefit from good plans and preferential rates.
Regular cyclist.
Average distance: 100km/day
Maximum distance: 125km/day
Avergage positive climb: 2350m/day
Maximum positive climb: 3050m
Hôtel Alba (4 star Hotel) at the edge of the Gave de Pau, situated in a particularly welcoming setting nearby the bike departure zone and just a couple meters from Bike & Py. The hotel has a modern and bike-friendly infrastructure: secured bike garage, repair workshop, washing station, dry-cleaning service, appropriate meals, etc. What's more, the hotel staff is eager, warm and very familiar with the needs of a cyclist.
We offer some supplements, but it is possible to include other services (access thermoludic center, tasting of local products, wine tasting, …), do not hesitate to contact us.
We can also plan a trip for accompanying persons who do not ride.
Bespoke: We are very passionate road cyclist and mountain bikers, so we have chosen to focus on providing a top cycling experience "à la carte": top quality, top riding experience, small or private groups. We know that each people is different this is why we offer customized trip.
In short, we know how to adapt to your desires, and to be honest, it is what we prefer, so do not hesitate to contact us and let us know an idea of the holidays you dream about, we will make you a proposal in the shortest possible time.
Includes
6 nights in 4* hotel (2 to 4-person room), breakfast included. Bike friendly hotel (secured bike garage, repair workshop, washing station, etc.)
4 dinners: healthy meals or traditional Pyrenees meals available (2 dinners free)
Professionnal guide on bike
Support vehicle with staff
Food provisions (snack, energy bars, energy drinks, etc.)
Pyrenean Cycling Jersey + water bottle
Welcoming drink the first night at Bike & Py
The morning coffee before the ride at Bike & Py
The after-ride beer at Bike & Py
Our workshop at your service in case of technical problem
Transfer from Lourdes airport or train station (2 shuttle/day)
RCP travel insurance
Does not include
Transport to hotel (except transfer from Lourdes airport or train station)
Drinks and other personal expenses
Tourist tax (€2.10 daily per person)
Extra-cost options
Vineyard visit + wine tasting: price upon request
Transfers from airport (Pau, Toulouse, Biarritz, …): price upon request
Single-room supplement: €325
Additional overnight stay: price upon request
Cancellation insurance and travel insurance : price upon request
Bike rental: €245 (Colnago Shimano Ultegra Disc / Bianchi Infinito Shimano Ultegra Disc)
Here is a typical example of a program, but what we prefer is to adapt according to your desires and according to the level of the group:
Day 0
Arrival, installation in the hotel rooms. Transfer included from Lourdes airport or train station. For Pau, Toulouse, Biarritz airports, consult us in advance.
End of the day: welcome drink at Bike & Py.
Day 1: Lourdes – Col du Soulor – Aubisque – Laruns – Lourdes (option Col des Bordères)
→ 110km – 1950m D+
From Lourdes, direction Argelès-Gazost, then the small village of Saint Savin implanted like a promontory above the Vallée des Gaves. After crossing part of the Val d'Azun valley, the real climb begins at Arrens-Marsous for 17km and 1150m ascent. A small descent of 2km will allow you to turn your legs a bit before attacking the last 8 km. You are finally at the top of the Col de l'Aubisque, legend of the Tour de France with no less than 47 climbs. Back then to Lourdes down on Laruns and Saint-Pé-de-Bigorre.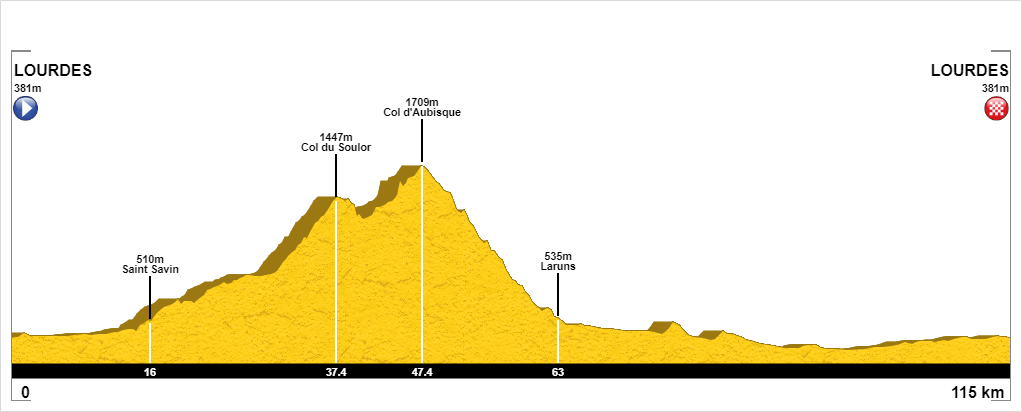 Day 2: Luz-Saint-Sauveur – Gavarnie – Col des Tentes – Luz Ardiden
→ 87km – 2785m D+
After leaving Luz-Saint-Sauveur, then contemplated the impressive work of Napoleon Bridge built between 1859 and 1863, direction the charming little village of Gavarnie and its spectacular Cirque, registered at the UNESCO World Heritage Sites. There will still be 11km of climb before reaching the Col des Tentes (2208m), the highest road of this stay with its breathtaking view of the Hautes Pyrénées National Park. U-turn to Luz-Saint-Sauveur to follow by the climb of Luz Ardiden, winter sports resort, theater of many arrivals from the Tour de France. Go back down to Luz-Saint-Sauveur.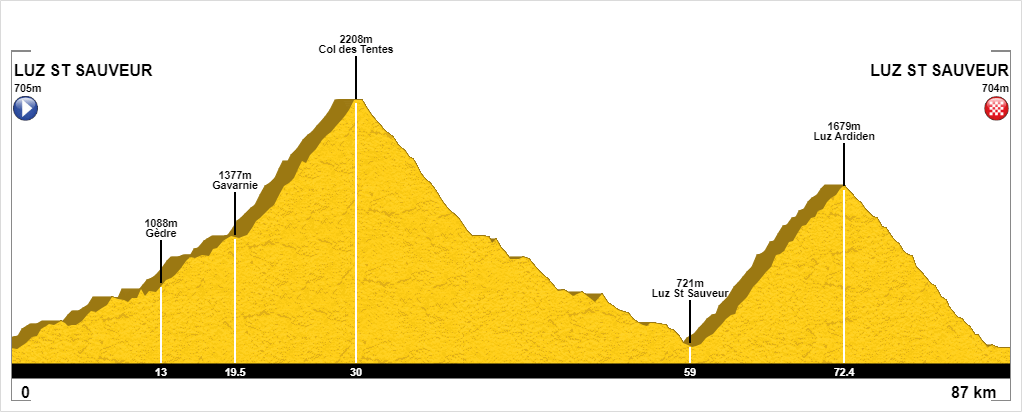 Day 3: Free day OR Lourdes – Argelès-Gazost – Hautacam – Juncalas – Col de Lingous – Lourdes OR Vineyard visit + wine tasting
→ 77km – 1770m D+
For this 3rd day, you will have the choice between just chilling and visiting Lourdes OR, for the most motivated ones who can no longer part with their bike, to go to climb of Hautacam. Its irregularity, its many breaks of slope and its 3km with more than 10%, make it a climb feared by many professional cyclists and often judged as more difficult than the Tourmalet. To finish this day trip, go up in the Vallée de Castelloubon to the Col de Lingous and then return to Lourdes. 
For lovers of good wine, we can also offer for this day the visit of a vineyard and famous chateau with wine tasting (supplement).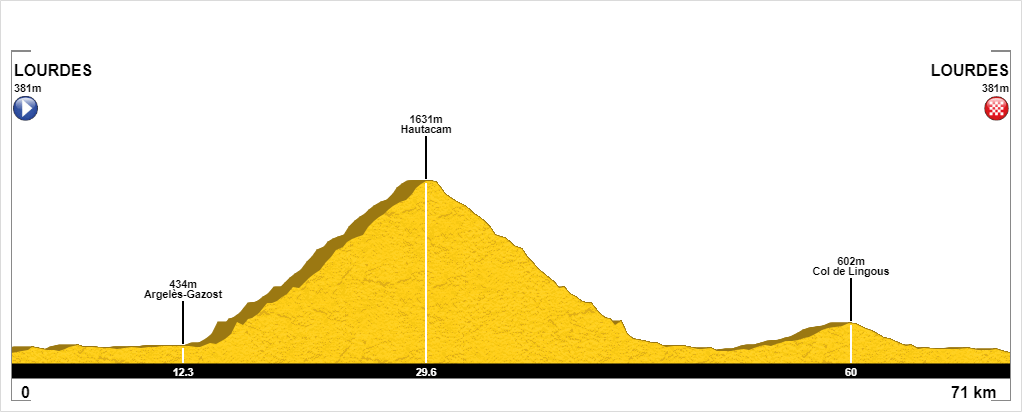 Day 4: Lourdes – Campan – Tourmalet – Barèges – Lourdes
→ 100km – 2100m D+
The myth…
Departure from Lourdes, a little warm-up with the Loucrup climb (2 km at 7%) to then descend on Bagnères-de-Bigorre. Crossing Campan and Sainte-Marie-de-Campan where Eugene Christophe repaired his fork in a forge after breaking it in the descent of the Tourmalet in 1913! The road then slowly begins to increase over the first 5 kilometers to the hamlet of Gripp. It is from this moment that the legend takes its full extent, and it is not difficult to understand why the Tourmalet is simply the col that was most often climbed by the Tour de France… After a 17km climb (7.3% average) (1255m ascent), down to Luz-Saint-Sauveur, then quietly return to Lourdes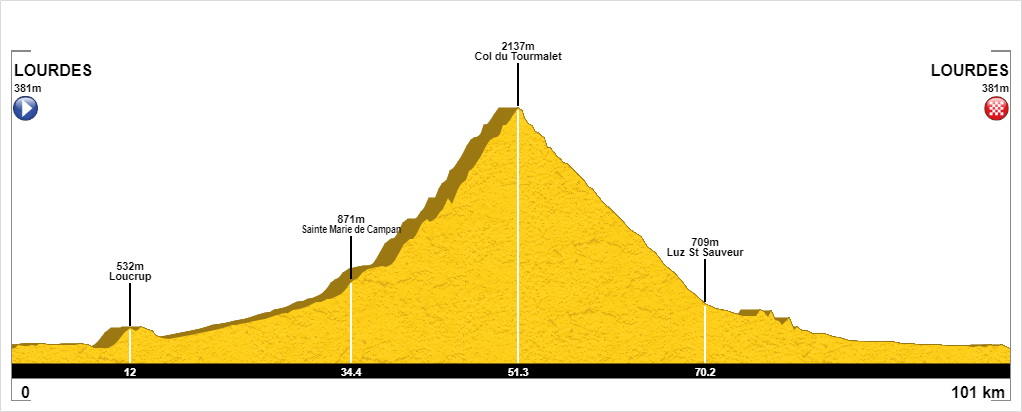 Day 5: Payolle – Hourquette d'Ancizan – Saint-Lary-Soulan – Cap de Long – Arreau – Col d'Aspin – Payolle
→ 102km – 3050m D+
Probably the hardest stage of the trip, with over 3000m ascent, but also one of the most beautiful, starting with the Hourquette d'Ancizan and its small bucolic road. Back down towards to Saint-Lary-Soulan, then climb to the Lac de Cap-de-Long beside the nature reserve of Néouvielle (22km, 1340m ascent). Nature lovers will admire this mountain landscape with extremely rich flora and fauna that make it a true bioclimatic originality. Then down to Saint-Lary-Soulan, then Arreau to start in the last difficulty of the day, the Col d'Aspin: 12km, 780m ascent.